For students
Syllabus
History
Department of Ophthalmology in Vinnitsa National Medical University was founded in 1934. Beginning of the department is connected with the name of professor A.G. Vasyutinskii, who came to Kyiv to read lectures to students. From 1937 to 1941 the department was headed by Associate I.D. Danilevskiy. The clinic was located in the Pirogov Regional Hospital and had 36 beds. After liberation of Vinnytsia from Nazi occupation department was established by docent L.H. Henes. At that time there were only 16 beds.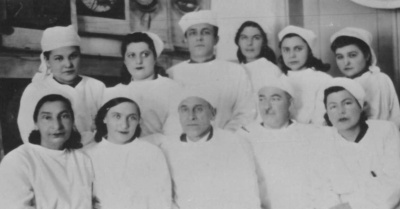 Professor Litinskiy with the staff.
In 1946 department was headed by Professor G.A. Litinskiy - known scientist and clinician.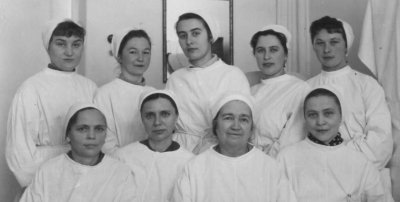 Professor V.O. Paniova with the staff
From 1953 to 1969 the Department of Ophthalmology was headed by Professor V.O. Paniova. In 1958 she defended her doctoral thesis on "Estimation methods of processing penetrating wounds of the cornea and corneal-scleral wounds in the clinical and morphological coverage." In 1963 she founded Regional Scientific Society of Ophthalmologists. The clinic at this time was expanded to 60 beds.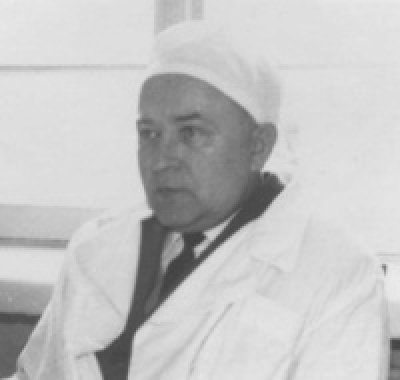 Professor L.L. Ustimenko
From 1970 to 1987 Prof. L. Ustimenko headed the department. In 1976, at the Clinic of Ophthalmology he organized regional trauma center. Since 1980, the clinic operations conducted on microsurgical level. Professor Y.R.Saldan is the head of the department since September 1988 until 2015.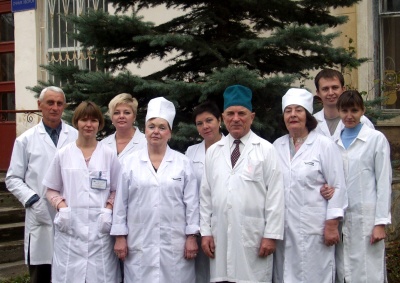 Department staff, 2007.
Staff
Malachkova Natalia Valentinivna
Head of the Department, M.D., Ph.D.
Veretelnyk Svitlana Petrivna
Assistant, PhD
Andrushkova Olga Oleksandrivna
, M.D., Ph.D.
Saldan Yulia Yosipivna
, M.D., Ph.D.
Chereshnuk Igor Leonidovich
Saldan Yosyp Romanovich
Professor, M.D., D.Sc., Ph.D.
Dmytro Yatsenko
assistant, ph.d.
Kukuruza Tetyana Yuriivna
Assistant, M.D., Ph.D.
Zhmud Tetyana Michailivna
Nazarchuk Galina Grigorivna
Assistant, MD, PhD
Kryvetska Nelia Volodymyrivna
Assistant
Komarovska I. V.
Assistant
Komnatska Kateryna Mykolaivna
Assistant
_WORKED
Antonyuk Tamara Mikolaivna
_DEP_YEARS1975 - 2021
, M.D., Ph.D.
News
Final test
23.06.2020
The test will take place on June 25, 2020 in Microsoft Teams at 13:00
Dear Students!
17.03.2020
Dear Students!
Taking into account the circumstances in which we all were the Ophthalmology Department does not stop work and continue to work with you in online mode.
Students of the 4th year of the medical faculty at this time have to pass the theme of "glaucoma". This is an extremely important topic, as the consequences are irreversible blindness and the loss of disability.
To get the appropriate points, you need to practice according to the schedule of quarantine to bring your own clinical cases on the following topics in printed and electronic form of your teacher.
Students in each group prepare in accordance with their list of group topic number.
Primary open-angle glaucoma (stage ІА)
Primary open-angle glaucoma (stage IIA)
Primary open angle glaucoma (stage IIIA)
Terminal glaucoma
Congenital glaucoma (Baby newborn)
Angle-closing glaucoma Chronic
Acute glaucoma attack
Ophthalmohypertension
Ophthalmohypertension as a result of trauma
10. Phacogenic Glaucoma
11. Normotension Glaucoma
12. Juvenile glaucoma
13. Primary open angle glaucoma (stage IІВ)
14. Primary open angle glaucoma (stage IІІВ)
The student should create a clinical case on the given subject and reveal the following sections:
Complaints with which a patient can consult a doctor
History (specify possible genetic risk factors)
Examination methods that need to be carried out by the patient in this case and indicate the results of these surveys. The survey should be divided into main and additional
Justify the results of the changes obtained as a result of surveys and briefly explain the pathogenetic picture of changes
Assign treatment, describe your actions as a family doctor for further observation of the patient
Head. of Ophthalmology Department Malachkova N. V.
Science activity